Shrink 2 Sink
Why Use Shrink 2 Sink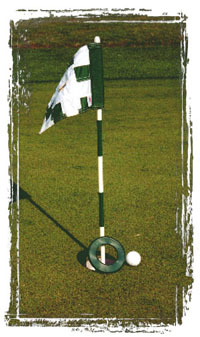 Shrink 2 Sink is the game's most effective, simple and least expensive practice aid for putting.
Putting accounts for 43 to 50% of all shots.
Most pressure putts are inside 10 feet.
The best putters on tour are almost always among the top money winners.
You can carry it in your bag and take it anywhere.
Use it to practice with or use it to warm-up before you play a round.
To build confidence, shrink your target and make the hole seem large.
Nothing helps you win your Saturday morning nassau more than good putting.
Pricing and Ordering Information
Shrink 2 Sink is $9.95 each, price includes individual packaging with instructions.. Discounts maybe available for larger orders.
To order, send your name, address, and the quantity you wish to order along with a check or money order payable to Par 5 Inc. to:
Par 5 Inc.
Attn: Tim Hartson
c/o Lake Doster Golf Club
116 Country Club Blvd.
Plainwell, MI 49080
This product is also available in the golf shops at both of our properties
(Lake Doster & Wallinwood Springs).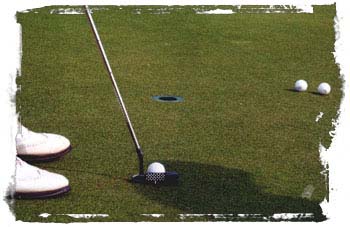 Bulk packaging available — 350 per box. Box size is 17 x 14 x 12, adjusted price $7.95 each